829 Pine Drive, Surfside Beach, SC
The South Strand Lions Club meets the second and fourth Thursday of every month. We meet at the Surfside Civic Center in Surfside Beach, located just north of the corner of 17 Business and Glenn's Bay Road - between the town hall and the police department. If you are interested in joining us in fellowship or in membership, please call secretary Rose Bartolomeo at 843-215-6718.
Upcomming Events
Surfside Beach Family Festival in October.
A street festival with music, crafts and food. The South Strand Surfside Beach Lions Club will be there. Proceeds from this fundraiser will be donated back to the community.

10th Annual Charity Golf Tournament, March 4, 2017, call Bob Bonadonna for more information 843-808-8274

A Winter Dance will be held on January 21, 2017 at the Ocean Side Village Community Center. For Information and tickets call Maxine Montague at 843-750-0589.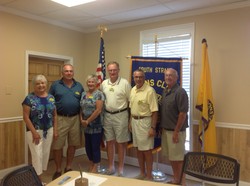 2016-2017 Officers & Board of Directors
Pictured from left to right: Rose Bartolomeo, Secretary, Bob Bonadonna, Treasurer, Maxine Montague, Monty Crossley, President, Steve Brigido, Director, Carl Blake.